TOYO BODY aims at improving customer reliability by realizing "small batches," "variety of products," and "quick turn around," striving for various efficiency improvement through IT.
Construction of high productivity/high profitability system
The automobile related industry is facing issues with significant social effects, such as environment problems, for example, car exhaust emissions and noise, or recycling, safety problems typified by truck wheel-separation accidents. For car bodies manufacturers like us, which supply rear bodies or chassis mounted with them to major truck manufacturers as well as nationwide affiliated sales companies, similarly sufficient consideration is necessary.
At the same time, it is thought that although it is anticipated that demands are regularly evoked from enhancement of laws and regulations due to environmental problems in recent years, the tendency to decrease fleet vehicles continues, accelerating "selection and concentration" in the industry in the future.
In the midst of this situation, in order for us, independent capital, to survive in the industry, the key to business expansion is further improvement of customer service, and for this purpose, it will be important to construct a production system of individually made-to-order type, in which small batches and variety of products, such as self-developed and designed Side Slide Van Bodies or winged bodies, are manufactured for customer needs, or a smooth production and sales system with a supply chain for supplying products to nationwide distributors (dealers) for sales expansion, building on the production system that targeted efficient production that can respond to quick turn around requests, and existing types of mass products such as standard flat bodies.
Overview of system configuration of business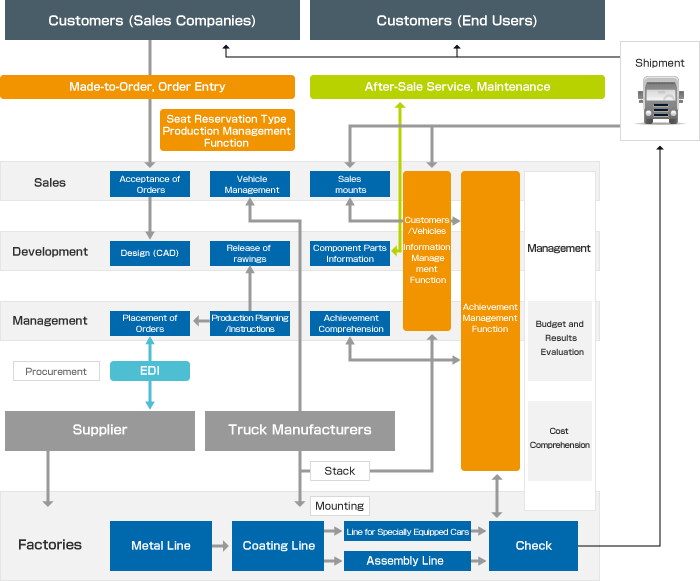 Business Results
Improvement of productivity
By accepting orders for made-to-order in leveled production, direct man-hours variable expenses (overtime money) are reduced by approximately 40%.
Improving efficiency of business
By operating the production system, direct work time of production management business is reduced by approximately 20%.
Improvement of customer service
By operating the vehicle supply chain, vehicle retention average time is reduced by 14%.
■Economic effects
Just in reduction effects of directly measurable labor costs, annual cost reduction of approximately 21 million yen has been realized.
*Evaluate verification is a prospect in fiscal year '05 compared with fiscal year '03 (only September '05 was calculated on a prospect amount)
However, vehicle retention times are a single month comparison of February 05 against monthly average of fiscal year '03.